Insights
Energy management insights for
better business decisions
Posted 2 weeks ago | 3 minute read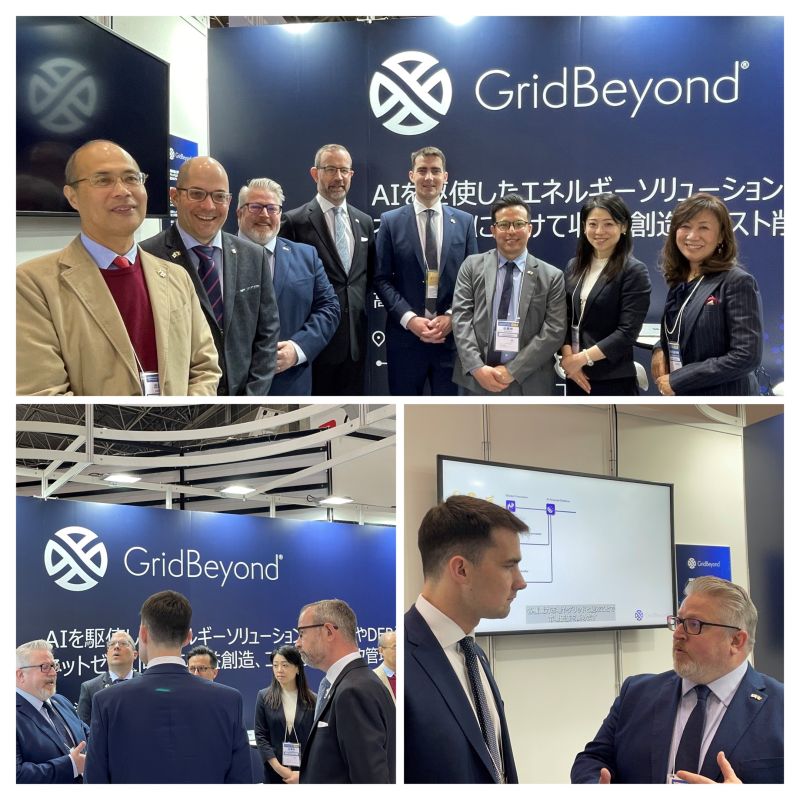 GridBeyond meets Irish Minister to discuss its AI technology in Japan
GridBeyond presented and exhibited at the Smart Energy Week event in Tokyo. During the conference, Mark Davis, Managing Director for Japan alongside Sales Director, Miguel Sakamoto and the GridBeyond team met Jack Chambers T.D Ireland's Minister of State for International, Road Transport, and Logistics and Minister of State for Postal Policy in the Department of Environment, Climate, and Communications.
The meeting was an opportunity to talk about the challenges and opportunities of the renewables sector in Japan and how this compares to the journey Ireland has taken to-date. The energy market in Japan is becoming more dynamic and complex and this is creating significant opportunities for businesses to support the grid and change how they power their operations. GridBeyond AI platform balances and connects energy generation, storage and industrial load in a coordinated system bridging the gap between distributed energy resources and the requirements of the power grid.
At the Smart Energy Week conference Chris Smith, Director of Asset Development at GridBeyond gave a presentation about the Energy Storage Optimisation and Maximising its Value.
Mark Davis, GridBeyond's Managing Director for Japan commented:
"It's great to be at the Smart Energy Week in Tokyo and to have the opportunity to speak with the Irish Minister for Renewables and so many interesting Japanese businesses. Renewable energies, energy storage, decentralised solar PV and EV mobility are becoming ever more present in Japan. While this is a critical step towards a secure and low-carbon energy sector, it means that grid services such as Demand Side Response become more important to support the grid operator to balance supply and demand of power, increase resilience and enable further integration of renewables into the energy mix.
"Since we entered the Japanese market just over 12 months ago, there has been a lot of interest around our products, and we are very pleased to be here and able to support Japan's crucial industries during the energy transition."
During his official visit to Japan, the Minister Jack Chambers who also visited other Irish business presenting at the conference, said:
"Irish companies are succeeding on the global stage. I was delighted to meet with GridBeyond as part of Ireland's St. Patrick's Day Mission to Smart Energy Week in Tokyo. GridBeyond is a dynamic Irish company exemplifying the world class capability and innovation being brought to the Japanese market today. I look forward to seeing its continued growth and success in Japan," said Minister Jack Chambers.