News
Energy management insights for
better business decisions
Posted 2 years ago | 5 minute read
Ai. Services | Turning big data into smarter trades
Digital revolution, known as Industry 4.0, has enabled people, businesses, manufacturing plants, campuses and even entire cities operate in new and innovative ways. As artificial intelligence (AI) is increasingly integrated with other systems and Internet of Things (IoT) devices, it has the potential to improve operational efficiency and asset utilisation.
At GridBeyond, we use AI and advanced technology to change the way businesses procure and use energy. By putting control into their hands, we empower energy consumers to intelligently control and optimise their energy strategy and create new value on their side of the meter. How? Using our Ai. Trade technology.
Big data
The UK is in the midst of an energy revolution driven by disruptive innovations, big data, connected technologies and decentralised generation, which are empowering consumers to manage, monitor and optimise the way that they generate, store and consume energy. As a result the energy sector is becoming more renewable, more digital with big data and connected devises, more available, but also more volatile, with prices as changeable as the weather.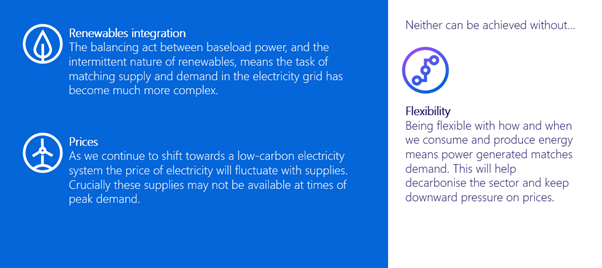 For high energy users, the answer to this increased volatility is an intelligent energy strategy based on big data, AI, machine learning and other advanced technologies. Thanks to AI, energy management strategies are now able to autonomously integrate data from devices and assets to apply learning, optimise performance and improve energy efficiency and reduce costs through automation and predictive maintenance.
The real benefit of AI, however, comes when you apply it to issues that require a decision in milliseconds, for example, to the dynamic price of energy in traded markets.
The majority of energy trading is done ahead of time between suppliers and generators in long-term markets (month-ahead, year-ahead). This is then refined in the spot or short-term markets, closer to real time (day-ahead, intraday). Following this, the grid operator will take action within balancing, flexibility and reserve markets to ensure supply and demand are matched.
To better manage their supplies and costs, large industries are increasingly trading electricity through shorter term markets. But optimising asset requirements for participation in a growing number and fast-changing energy markets can be a challenge that requires the right technology and expertise.
By forecasting everything from weather conditions to short-term wholesale market prices, Ai. Trade helps you manage your energy purchasing and on-site assets in real time. But how does it work?
Data driven solution
Our AI forecasting solution, Ai. Trade, uses advanced trading strategies, real time forecasting, and analytics-driven decision support to create a solution that will optimise your financial returns.

In essence, Ai. Trade predicts market trends via a series of price forecasts and creates an optimal trading solution tailored to your site. By using a combination of historical and real-time market data from over 70 big data sets, its self-trains and recalibrates in real-time, learning from and adjusting to new market data as it arrives. It also combines different AI algorithms including supervised predictive AI, deep learning, and neural networks.
The output is a series of forecasted solutions on where and when to buy or sell electricity. By bringing together the trading signals from the AI-generated forecasts and combining them with your site requirements, volumes required and appetite for risk, our software offers real-time automated trading, making the best available trades for you in real time.
Client results
Industry: Cold storage and logistics
Challenge: The site was importing power throughout the day to maintain a temperature of -23 degrees. Energy flexibility was found in the assets without impacting product quality or operations – providing an opportunity to generate revenue for the business.
Solution: By optimising their assets and using Ai. Trade, energy flexibility was traded in the highest revenue markets and additional power was imported to over-cool the site when prices were low.
Results: By forecasting market prices, shifting load, and trading, GridBeyond's Ai. Services were able to reduce costs by £16,600/ MW/year. Active trading across markets provided revenues of £62,500/MW /year.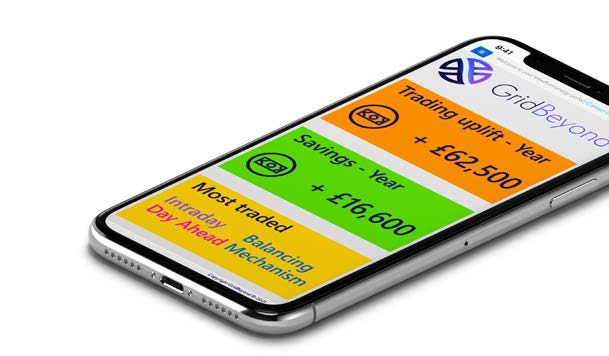 In a volatile and dynamic energy system, you need to know what's going to happen next. Using predictive-learning algorithms, the Ai. Trade provides day-ahead forecast data for your site energy profile, helping you pre-empt exposure to peak prices. Intelligent energy management is no longer just a case of how much energy you use, it's about when you use it. The Ai. Trade's solvers identify opportunities to shift demand to cheaper and lower carbon times of day or markets to purchase electricity on to secure the best price for power, without compromising on operations. From smart charging of EVs to avoid peak prices, through to diverting electricity to battery storage, the Ai. Trade lets you manage your infrastructure in optimal balance.
Ai. Trade doesn't require from your business to provide complex transactive services for grid operators and risk compromising performance. Instead, it treats flexibility within the context of comfort, cost and carbon management, and uses predictive and big data to give energy managers the confidence and transparency they need to flexibly dispatch their energy assets.
Ai. Trade is part of our family of AI-powered innovations.
Our Ai. Services (Ai. Terms, Ai Trade and Ai. Thrive) make it easier than ever to reduce energy costs, cut carbon, improve the performance of your assets and gain new revenue streams while supporting the integration of green energy onto the grid.
With live data, analytics and automated insights, our Ai. Platform becomes the nerve centre for real time optimisation of your energy strategy, helping you transform your energy into opportunity.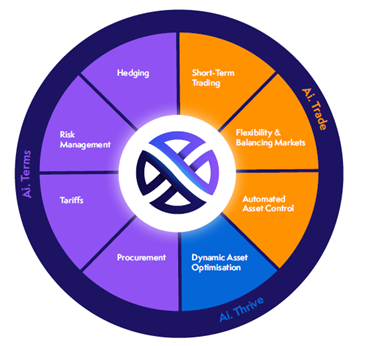 If you have any questions around the potential for your site, contact our team, or to learn more about the complimenting services offered by GridBeyond's intelligent energy technology, our Ai. Services brochure.