Insights
Energy management insights for
better business decisions
Posted 1 year ago | 6 minute read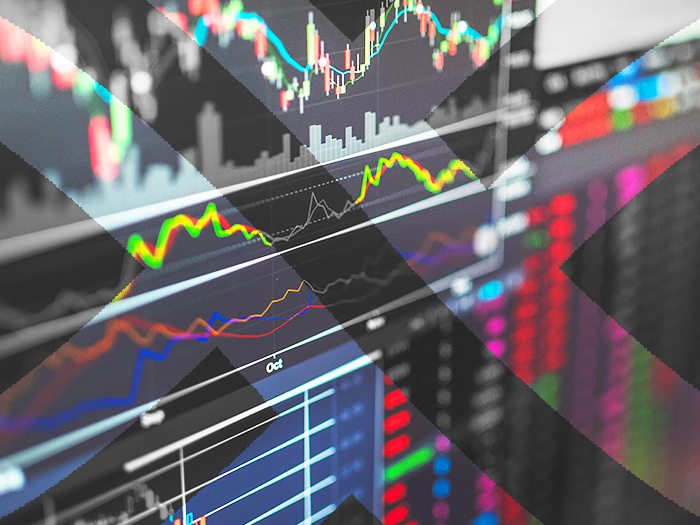 Prepare for more energy turbulence
This article originally appeared in the August 2022 issue of EEnergy Informer, published and edited by Dr Fereidoon Sioshansi, who can be reached at fpsioshansi@aol.com or through http://www.menloenergy.com
Challenges and uncertainties at their greatest for almost 50 years
Staring in 1952, BP has been publishing its Statistical Review of World Energy. The 71st edition of this annual report released in late June is especially timely as it captures the impacts of the global pandemic affecting energy consumption and greenhouse gas emissions in 2000-1 but not the impact of the ongoing war in Ukraine, which will be captured in the next year's edition. In the report's introduction, Spencer Dale says, "The challenges and uncertainties facing the global energy system are at their greatest for almost 50 years, since the time of the last great energy shocks of the 1970s." He adds,
"Most immediate is the impact of the terrible events taking place in Ukraine…. The war also threatens to lead to shortages in food and energy…. From an energy perspective, the growing shortages and increasing prices highlight the continuing importance of energy 'security' and 'affordability' alongside 'lower carbon' when addressing the energy trilemma."
Share of renewables rising in power generation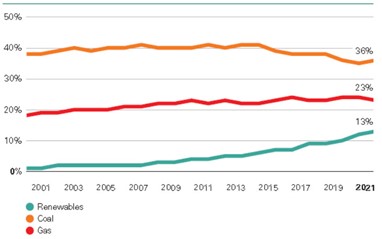 Source: Statistical Review of World Energy, BP, June 2022
The global pandemic was unusual but only temporary; the impact of the war is likely to be longer lasting.
"This year's data show a sharp bounce back in global primary energy in 2021, increasing by almost 6% and more than reversing the sharp fall in energy consumption in 2020 as much of the world locked down. Primary energy use in 2021 is estimated to be more than 1% above its 2019 level."
The fast rebound, enabled by massive government interventions, especially in the US and Europe, is now feeding the rising inflation, supply shortages and high commodity prices. Dale says,
"In many ways, this sharp rebound in energy demand is a sign of global success, driven by a rapid recovery in economic activity …"
"But it also highlights that the pronounced dip in carbon emissions in 2020 was only temporary: carbon equivalent emissions from energy (including methane), industrial processes, and flaring increased by 5.7% last year."
The bad news on emissions is somewhat tampered by the inexorable rise of renewables on massive global scale despite recent price rises and supply chain issues.
"Encouragingly, renewable energy, led by wind and solar power, continued to grow strongly and now accounts for 13% of total power generation. Renewable generation increased by almost 17% in 2021 and accounted for over half of the increase in global power generation over the past two years."
EU dependence on Russian energy is not easy to address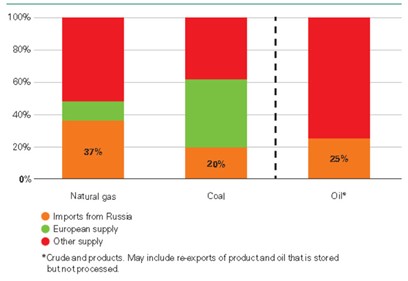 Source: Statistical Review of World Energy, BP, June 2022
BP, not unlike other energy majors wants to be seen as part of the solution, rather than the problem. Dale says,
"The low-carbon energy sources and technologies needed to achieve a fast and deep decarbonization exist today – wind and solar power, biofuels, blue and green hydrogen, CCUS (carbon capture, use and storage), and carbon dioxide removals. The challenge is to apply them at unprecedented pace and scale."
This editor, as well as many other observers, are anxiously waiting for BPs next report, which will capture the initial impacts of the war in Ukraine on global energy prices and markets.
Without doubt, 2022 will go down as one of the most eventful years in the annals of energy history with unprecedented high prices and the beginning of massive shifts to new and more secure energy resources. While not much can be changed in the short-run, everything can be changed over the longer-term, and we are beginning to see some of the attempts already. One danger, of course, is that in the haste to react to the crisis, some poor decisions are bound to be made, which will complicate things in the longer-term – say switching from Russian natural gas to LNG imports – which may become stranded investments once the current crisis is over. Or over-reliance on solar PV panels imported from China.
Oil prices have spiked and exhibit high level of volatility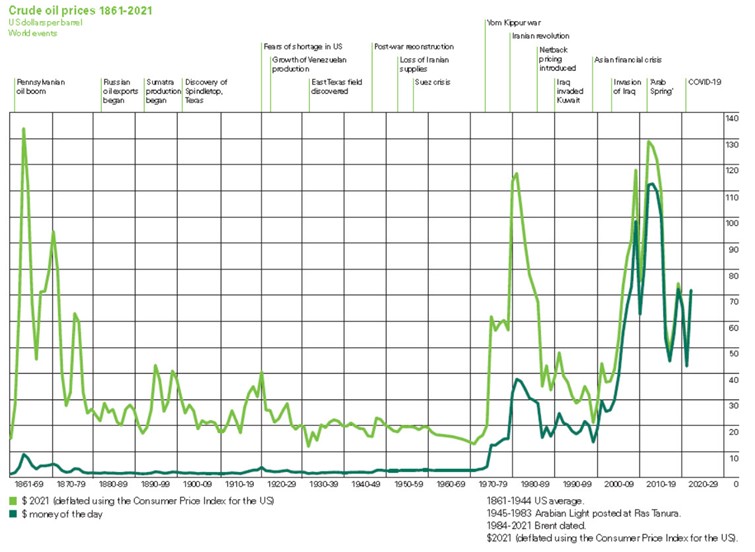 Source: Statistical Review of World Energy, BP, June 2022
One would hope that European politicians will take concrete and lasting steps towards moving away from over-reliance on Russian supplied fossil fuels. But it won't be easy, fast or cheap. There are, however, hopeful signs that this is already happening and will bear fruits in a few years.
The other takeaway from BP's latest report, and many others like it, is that fossil fuels, regardless of the source, tend to exhibit price volatility – evident from the historical patterns for oil, and more recently also in natural gas and coal. This, plus the fact that all are responsible for the warming climate suggests that the sooner we move away from them the better.
Oil majors such as BP, of course, do not wish to see their main source of profits to go away anytime soon. Different oil majors are taking different approaches to gradually diversify since they see the longer-term trends as inevitable. At the same time, with the current high oil and gas prices and demand for more supplies, it is hard to see any moving away from their core business. The war in Ukraine has definitely put climate action on the back burner, and that is unfortunate.
About
Dr. Sioshansi is President of Menlo Energy Economics, a consulting firm based in San Francisco, California, advising clients on the rapid transformation of the electricity sector and emerging business models. He has over 4 decades of experience covering all aspects of the electricity power sector. He is the editor and publisher of EEnergy Informer, a monthly newsletter with international circulation, now in its 29th year of continuous publication.
Dr. Sioshansi's professional experience includes working at
Southern California Edison Company (SCE);
The Electric Power Research Institute (EPRI);
National Economic Research Associates (NERA); and
Henwood Energy, now part of ABB.
Dr. Sioshansi has degrees in Engineering and Economics, including an MS and Ph.D. in Economics from Purdue University.
EEnergy Informer covers the significant news and developments in climate change, renewable energy, energy efficiency, smart metering and smart grid, nuclear energy, clean coal technology, natural gas, energy supply and security issues – and much more – in ways not found anywhere else.
Dr. Sioshansi can be reached at fpsioshansi@aol.com or via http://www.menloenergy.com