News
Energy management insights for
better business decisions
Posted 4 years ago | 5 minute read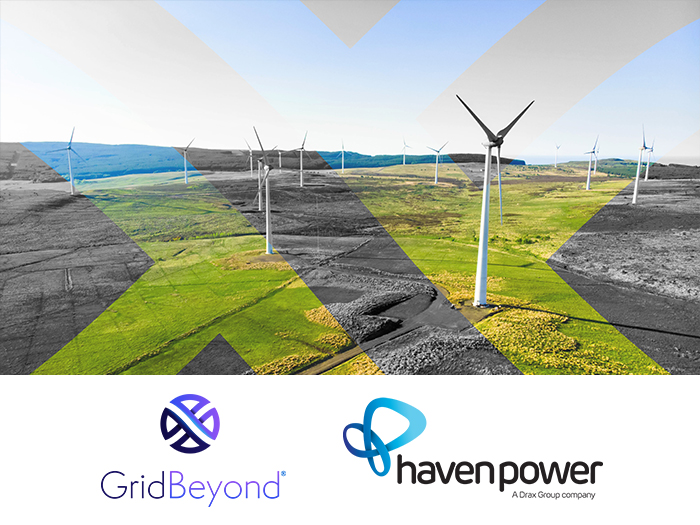 New Haven Power & GridBeyond partnership to help businesses be more sustainable
Businesses can save money on their energy bills, enhance their sustainability, boost profitability and operational integrity to support the grid in smarter ways, thanks to a new partnership between leading supplier of renewable electricity Haven Power and intelligent energy technology provider GridBeyond.
By using GridBeyond's technology, Haven Power's customers will be able to trade the power they produce as well as optimise their operations to help balance the grid at times of peak demand – whilst reducing their energy costs and making their operations more sustainable.
GridBeyond, is the leading provider of intelligent energy technology and flexibility solutions. Through this collaboration with Haven Power, the partnership offers new services and simplifies the complex energy landscape for business users – and helps to decarbonise and digitise the electricity system.
They will do this by providing businesses with access to energy technology and markets – making the system more transparent and easier to understand, whilst supporting sustainability ambitions and environmental goals.
Haven Power supplies renewable energy as standard to its customer base. GridBeyond's platform powered by machine learning, supports the integration of intermittent energies, such as wind and solar, onto the grid by encouraging and enabling participation of large energy consumers in Demand Side Response (DSR) programmes.
Wayne Muncaster, UK Managing Director at GridBeyond, commented on the partnership: "The partnership with Haven Power highlights the increasingly important and active contribution that needs to be made collectively by all energy industry stakeholders, including suppliers, technology providers, District Network Operators and energy consumers." He continued, "The vast experience of Haven Power in providing reliable, sustainable and competitive electricity, combined with GridBeyond's technological acumen and innovative award-winning energy platform forges a powerful partnership, one that will no doubt deliver exemplary energy services to business energy users within Haven Power's client portfolio"
Haven Power's trading teams will work with GridBeyond to ensure that DSR revenues are maximised for their customers. This will include accessing wholesale markets in combination with DSR programmes.
Haven Power already works closely with the Research and Innovation team from its parent company Drax Group to provide bespoke energy service solutions for its customers.
Paul Sheffield, Chief Operating Officer at Haven Power, commented: "We're excited to be partnering with GridBeyond which is a business that shares a similar ambition to ours; to deliver flexible energy solutions to UK businesses. As part of Drax Group, Haven Power is striving to enable a zero carbon, lower cost energy future, and this partnership will help us and our customers to achieve this goal."
"UK businesses are demanding more from their energy supplier, looking to unlock opportunities, to drive value, and build sustainability programmes. Through the energy services we provide and by partnering with GridBeyond we can help them do more and make the energy they need work harder for them."
Michael Phelan, Chief Executive and co-founder at GridBeyond, also commented on the partnership:
"2019 will bring significant developments and growth to our business, and we are delighted to kick it off with this exciting and valuable partnership. GridBeyond and Haven Power's offerings complement each other superbly, creating a broader pool of knowledge and expertise. We intend to work closely on providing truly innovative energy solutions to the market, empowering large energy users to make the best decisions for their businesses and benefiting from DSR programmes and advanced energy optimisation solutions."
He commented further, "GridBeyond is keen to develop collaborative, transparent partnerships where parties work together for the benefit of the whole industry. Today's announcement comes just over a month after we informed about our collaboration with the commercial entity Electricity North West (Construction and Maintenance) to provide innovative energy technology to more than 900 industrial, commercial and public sector businesses in the North West of England"
About GridBeyond
GridBeyond, launched in 2010, is the leading provider of demand side response, intelligent energy services and flexibility solutions for industrial and commercial organisations. Energy, financial and operational stakeholders are empowered to deliver performance, sustainability and cost optimisation via the cloud-based machine learning platform. With a wealth of engineering and technology expertise, GridBeyond delivers a complete energy solution from install to insights.
About Haven Power
Haven Power is one of the largest business electricity suppliers in the UK and was awarded the title Supplier of the Year at the Energy Awards in 2014 and 2016. Founded ten years ago, they have grown by providing dedicated account management support as a response to many of the typical issues customers have with their energy providers. Haven Power offers 100% reliable, cost effective renewable energy and services that help customers use energy more efficiently, control their spend and manage risk.
Haven Power is part of Drax Group plc.
About Drax
Drax Group's ambition is to enable a zero carbon, lower cost energy future. Its 2,600-strong staff operate across three principal areas of activity – electricity generation, electricity sales to business customers and compressed wood pellet production.
For more information, please contact PR Manager, Gabriella Di Salvo on +44 (0)1923 431 638 or +44 (0)7804 730482; email press.office@aakash