Insights
Energy management insights for
better business decisions
Posted 1 month ago | 7 minute read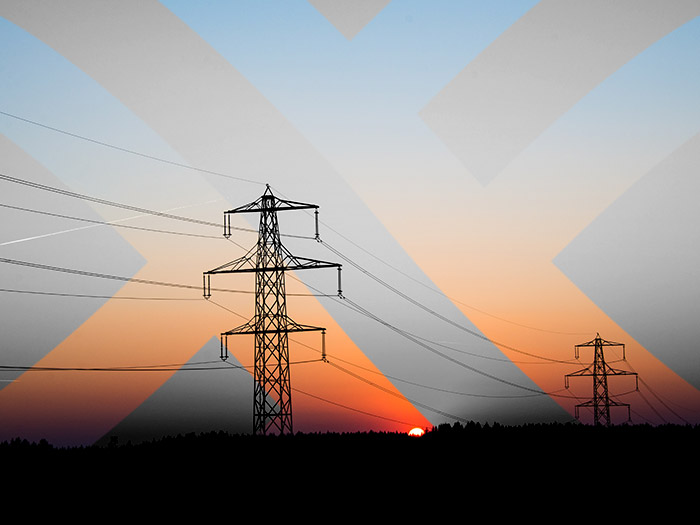 The last Triad
Triad season started on the 1 November and ends on the 28 February. This is the last year to implement Triad avoidance strategies, as from April 2023 the Targeted Charging Review is implemented in full. But what does this mean for businesses?
What are triads?
In the 2018 Targeted Charging Review, Ofgem outlined its plans to reform the way use of the transmission and distribution networks is paid for. At the heart of this review was its desire to create a level playing field for network charges.
National Grid determines the three highest half hour periods of demand during the winter months. These are termed "Triads" and are used to calculate the charges an organisation will incur for using the network – the Transmission charges, also known as TUoS or TNUoS charges.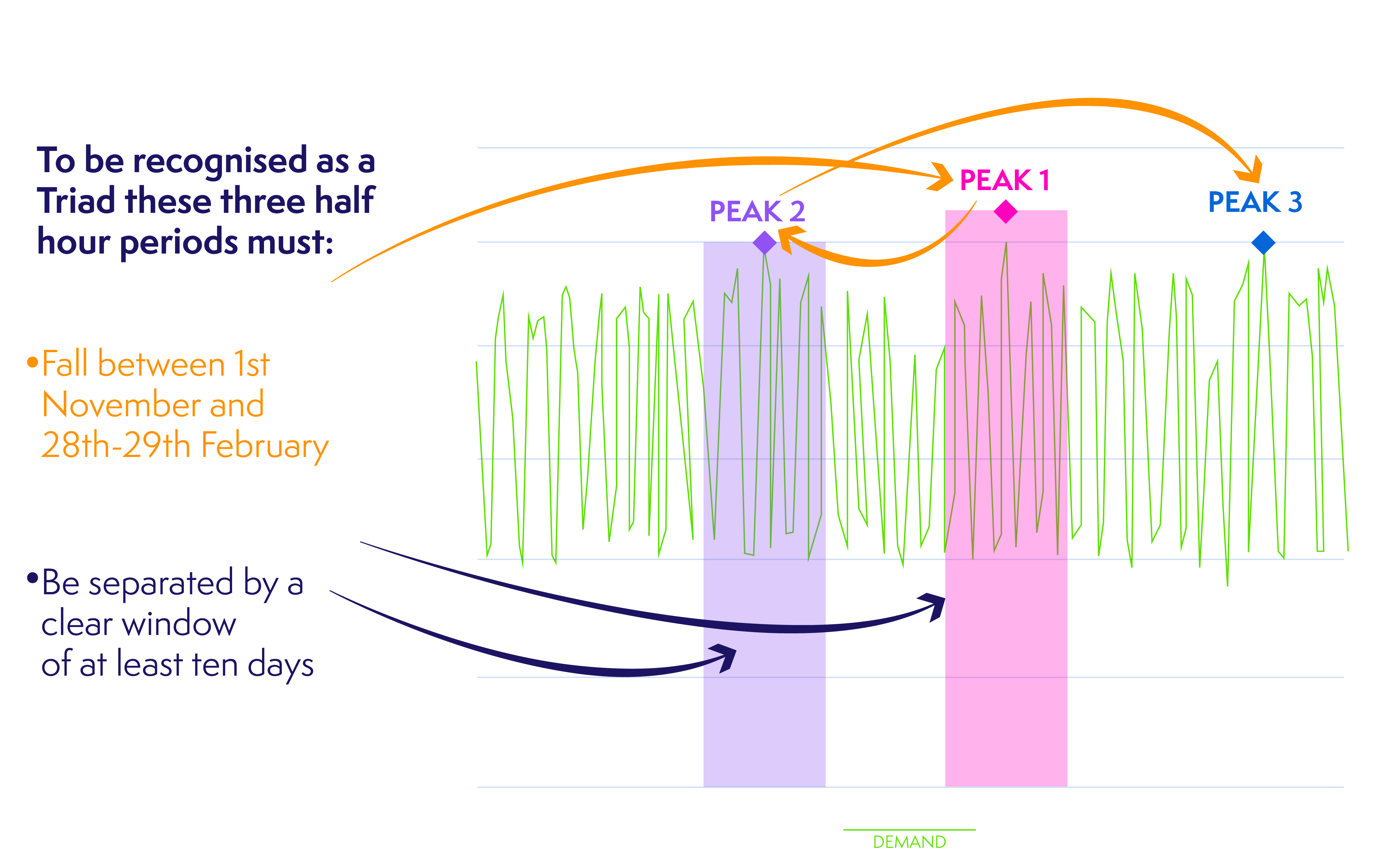 Changing times
But the way your business is charged for some of its non-commodity costs is changing – which means you may need to adapt your energy management strategy to avoid higher energy bills.
Historically, for businesses able to reduce or shift energy volumes, Triad periods have provided an opportunity to make savings through flexibility by reducing consumption during peak periods. Even those who aren't able to be flexible in their usage were able to mitigate the impact of Triads by increasing their energy efficiency.
The end of the Triads will see the residual element of transmission network charges (TNUoS) change from demand to a fixed charge based on a site's Agreed Supply Capacity (calculated as an average over a 24-month period ending in October 2020). Under the new system, Triad avoidance will no longer be possible for many and, where it remains, the financial benefits will be significantly reduced.
Preparing for 2023-24 winter period perhaps isn't at the top of the agenda given the recent highs in energy costs over this winter period. But, getting prepared now may enable you to benefit from savings going forward. The bands have now been set and the next review period will be in April 2026. But what can businesses do to minimise the impact before this date?
The good news is the current energy landscape means there is a host of opportunities for those with flexible assets.
Conduct an energy audit
You can't start reducing your energy costs if you don't know where energy is being used. The purpose of an energy audit is to identify areas and processes where energy consumption can be reduced.
At GridBeyond, we have years of experience in delivering energy audits for the public, and private industrial and commercial (I&C) sectors. We use monitoring equipment to diagnose energy wastage and develop energy efficiency strategies, including for your Energy Savings Opportunity Scheme (ESOS) and carbon reporting obligations.
Examine your procurement
I&C businesses have significant potential to both reduce costs and make revenues by taking advantage of short-term downward energy prices through hybrid and flexible tariffs. Whether you have a broker or manage your own supply contracts, we can support you with energy procurement.
Through a deep understanding of your requirements, our trading and energy experts will draw upon our AI smart forecasts to provide advice on a tariff type and supplier that will allow you to best monetise your position. We will also review your existing hedging policy and make recommendations on load shape to ensure optimum procurement efficiency and reduced overall costs for your business.
Reduce demand
Reducing energy demand provides a range of benefits. From simple cost and carbon savings, through to pattern monitoring for optimisation (and everything in between).
By gathering data, GridBeyond's AI-powered Point platform can identify and understand your energy usage patterns to see where efficiencies can be made. The same platform uses your operating parameters and schedules to optimise resilience too.
By measuring the energy consumption of your onsite assets using our advanced metering technology, we can build a complex energy profile. Energy consumption patterns can tell us a lot about the status of a piece of equipment. By collating this data, and combining it with aggregated data from similar assets, our AI technology identifies trends, evaluates asset health, and provide alerts accordingly.
When analysed by our Data Scientists, this benchmark forms the basis of a strategy to improve performance and environmental standards by evaluating the areas and equipment that may benefit from retro-commissioning. By ascertaining the likelihood of a fault occurring, businesses can generate significant savings.
The bottom line is that when you can ascertain how and where your organisation can reduce demand, you can understand how your business can participate in markets, services, optimisation and efficiency programmes. When using the right technology platform, these decisions are all automated using machine learning algorithms.
Starting with a comprehensive benchmark of the energy consumption of an asset, our experts compare its performance, operational processes, facility, or organisation to historical data, peers, and established norms, with the goal to improve performance and environmental standards.
Using this benchmark, combined with our Point Ai. Thrive forecasting solution, we provide intelligence and insights on every aspect of energy usage to find faults, understand the best retro-commissioning projects and flag up anomalies that could signal an asset fault or need for maintenance.
Take advantage of trading
Large industries are increasingly trading electricity through markets to better manage their energy supplies and reducing costs. But optimising asset requirements for participation in a growing number and fast-changing energy markets can be a challenge without the right technology or expertise.
By forecasting everything from weather conditions, the need for balancing actions on the grid to short-term wholesale market prices, Point Ai. Trade helps you manage your flexible energy purchase and on-site assets. Drawing upon Big Data and Machine Learning, the GridBeyond Point Ai. Trade solution uses AI to forecast electricity prices on both long and short-term markets and your own site consumption on a sub-second basis.
Point Ai. Trade will then create an optimised solution for your load and identify arbitrage opportunities across all available short-term markets. It will balance this with your assets, productions schedules, and flexibility strategy.
Once an optimised solution has been created, our Robotic Trading function will make the best available trades for you in real time – monetising your position continuously.
Increase generation or invest in storage
More and more businesses are choosing to add embedded generation to their site. Properly managed generation helps to develop a holistic energy strategy, whilst ensuring your business sees the best possible return on investment.
Our support for your generation strategy is split into two sections: optimisation of the current generation assets and finding new generation opportunities. By identifying how your current generation assets can be best utilised, it is possible to ascertain where additional generation might work best.
Energy storage capacity, production schedules, market prices and export opportunities all feed into the platform to ensure generation assets reduce costs, increase revenues and deliver environmental benefits. To monitor multiple market opportunities, operational parameters, asset status (fuel levels, battery state-of-charge etc), whilst also making 'next best action' decisions close to real-time, while controlling and metering constraints, requires a sophisticated platform.
Conclusion
Energy prices are continuing to rise. While energy management can be challenging for businesses, your operating costs can soar if you don't take action.
Some energy management measures can be expensive and challenging to implement, but there are a variety of ways that your business could not only reduce energy costs but also benefit from volatility in energy prices by having the right technology is critical.
Using AI and Robotic Trading combined with the expertise of our trading experts and Data Scientists, GridBeyond's Point Ai. Services open the door for your business to take your energy strategy from passive purchasing and consumption to predictive analysis and active energy management and trading.
Using AI and Robotic Trading combined with the expertise of our trading experts and Data Scientists, GridBeyond's Point Ai. Services open the door for your business to take your energy strategy from passive purchasing and consumption to predictive analysis and active energy management and trading. GridBeyond's Point Ai. Services consist of three complementary products: Ai. Terms, Ai. Trade & Ai. Thrive, which together, will transform your energy into opportunity.