News
Energy management insights for
better business decisions
Posted 2 years ago | 3 minute read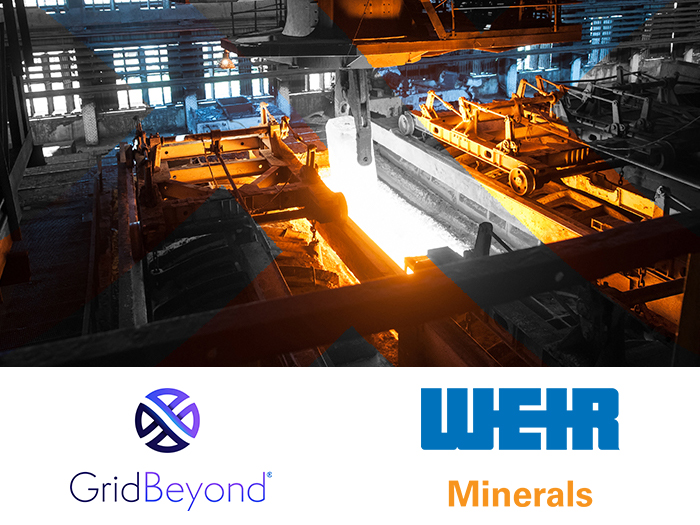 Weir Minerals Europe Foundry Collaborates with GridBeyond to Advance Sustainability Agenda
Weir Minerals Europe, a leading operator and a global manufacturer of equipment for the mining and mineral processing industries, has partnered with GridBeyond, the provider of intelligent energy technology and flexibility solutions. The foundry has been using GridBeyond's platform, Point, to enter the Frequency Response and Capacity Markets to support National Grid with grid balancing and decarbonisation of the energy network.
Since December 2020, Weir Minerals foundry has been able to monetise 1 MW of its estimated energy flexibility by participating in the fast-acting Dynamic Firm Frequency Response (DFFR) scheme run by National Grid. The service uses the inherent energy flexibility of four induction furnaces operated by Weir Minerals at its site in Todmorden, West Yorkshire (UK), to support grid balancing and integration of renewable energy into the electricity network.
The company is scheduled to participate in this year's Capacity Market auctions, a scheme that ensures there is enough flexibility in the energy network to respond to significant imbalances of supply and demand, thereby preventing potential blackouts. Participation in both services will provide Weir Minerals with a tangible annual saving. All of this is achieved without impacting the production processes or capital expenditure budget.
GridBeyond also helps Weir Minerals generate savings by automating its response to Triads, which are three half-hour periods between November and February with the highest energy demand and peak charges for consumers. By decreasing energy consumption during these times, the company can optimise its operations and increase savings without negatively impacting production.
The collaboration reflects Weir Minerals' commitment to reduce its carbon footprint, support sustainability and enable the transition towards a net-zero economy by applying the most advanced energy technologies.
Lee Jenkins, Director of Operations at Weir Minerals Europe, commented:
"This process is extremely valuable for Weir Minerals Europe, providing us with the necessary alerts and diagnostics to help us reduce our energy consumption and our overall energy spend. We are confident we will start to see cost benefits Q2, 2021.
Mark Davis, Managing Director UK & Ireland at GridBeyond, commented:
"With an impressive 150 years of history and heritage, Weir Minerals is an example of a forward-thinking business with a modern energy management strategy that makes the most of the opportunities presented by the energy markets, whilst simultaneously supporting the net-zero transition.
For more information on how GridBeyond can help metals businesses improve their bottom line through enhanced energy services, visit our metal industry pages.